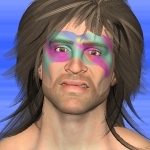 Jim Force is a former bodybuilder that sports a 'power and paint' gimmick. This face-painted powerhouse first came to attention with the Supreme Wrestling Federation in the late 1990's. He would go on to win the SWF North American title twice, and came very close to the SWF World title on several occasions. He was eventually released in 2000; as the booking team of that era could no longer hide his sub-par in-ring skills. After a brief one-night appearance in Danger and Violence Extreme, he went on hiatus for awhile, before reappearing in United States Pro Wrestling in 2002. He would go on to become a four-time USPW World Champion, and is currently one of their biggest stars.
Basic Info
Edit
Real Name: Kevin Peter Jefferson
Height: 6'2"
Weight: 285 lbs.
Birth Date: May 14, 1974
Birth Place: Pittsburgh, Pennsylvania
Resides: Pittsburgh, Pennsylvania
Billed From: The Force Nation
Debut:
Signature Moves
Edit
Full Force (Suplex Powerslam)
Flying Double Axe Handle
Title History
Edit
External Links
Edit
Ad blocker interference detected!
Wikia is a free-to-use site that makes money from advertising. We have a modified experience for viewers using ad blockers

Wikia is not accessible if you've made further modifications. Remove the custom ad blocker rule(s) and the page will load as expected.