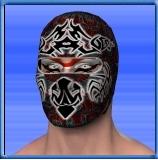 Acid is a brilliant masked high flier, best known for his run as one of DAVE's most popular wrestlers. Breaking into the sport in 1996, he originally wrestled without the mask, as Tayler Morton (his real name). It was in 2002, that he first debuted the Acid character, and over the next two years he made a solid claim for being the best independent worker in America. In August 2004, after being courted by them for over a year, he finally signed a contract with Danger And Violence Extreme. His stay with the company lasted three years, right through to the company's final show. Post-DAVE, Acid decided to try something a little different, and he accepted a long-standing offer to become a regular with World Level Wrestling in Japan.
Basic Info
Edit
Height: 5'6"
Weight: 225 lbs
Birth Date: October 29, 1977
Birth Place: Toronto, Ontario
Resides: Philadelphia, Pennsylvania
Billed From: Philadelphia, Pennsylvania
Debut: March 12, 1996
Signature Moves
Edit
Acidity Test (Death Lock STF)
Acid Rain Bomb (Swandive Senton Bomb)
Title History
Edit
Ad blocker interference detected!
Wikia is a free-to-use site that makes money from advertising. We have a modified experience for viewers using ad blockers

Wikia is not accessible if you've made further modifications. Remove the custom ad blocker rule(s) and the page will load as expected.